Automate the Enterprise with RPA
RPA Software Solutions and Tools
RPA software autonomously completes administrative processing in one or more software systems with human exception management and is best suited to mundane, rule-based and repetitive administrative and back-end operational processes.
Using RPA technology, organisations can automate any business process which is executed in one or more software systems and uses inputs in digital format.
With no complex integrations or modifications to existing systems required, solutions can be quickly deployed offering organisations a tool that provides rapid benefits realisation, fast payback and high return on investment (ROI).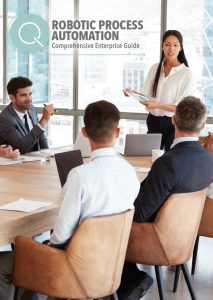 The RPA Business Case
NZ Use Case Examples
Vendor Landscape
Global RPA Market
Lessons From Early Adopters
FREE INSTANT DOWNLOAD
Instantly download the free comprehensive enterprise guide written with New Zealand specific information.

In the Draft Guide for Terms and Concepts in Intelligent Process Automation, the Institute of Electrical and Electronics Engineers (IEEE), the world's largest organisation for the advancement of technology, defined RPA software as a platform that uses business roles and pre-defined choreography to complete autonomous execution of a combination of processes, activities or transactions, and tasks in one or more unrelated software systems to deliver a result with human exception management.
Why Automate With RPA Tools
Increased Speed, Agility & Flexibility
Solutions provide organisations with a flexible tool that can respond to fluctuating demand, be scaled for growth or re-programmed to support the changing needs of the business.
Drive Operational Performance
Centrally manage business activities with direct reductions in operating costs, improved efficiency, increased output, higher quality processing and greater productivity.
Improve Staff & Customers Satisfaction
Using automation technology to deliver mundane and repetitive processes, staff are empowered to focus on value-add activities such as relationship management. The customer experience is improved through a higher level of personal services, product consistency and faster response times.

Processes That Have Been Automated With RPA Solutions
| Insurance Organisations | Banking Organisations | Healthcare Organisations |
| --- | --- | --- |
| Client profile updates | Statement reconciliation | Receipt of e-referrals |
| Generating renewal premiums | Credit card application processing | Patient registrations |
| Claims processing | Requests for overdraft protection | Treatment eligibility and billing |
| Underwriting processes | Service plan enrolments | Updating patient records |
| Policy administration and servicing | In-bound mail management | Generating outpatient referrals |

Blue Prism is recognised globally as a leading RPA software technology, providing a secure, scalable and flexible automation solution with centralised management.