Content Intelligence For Robotic Process Automation Powered By ABBYY
ABBYY technology digitises paper documents and turns unstructured content into structured, actionable information.

ABBYY is an intelligent platform for capturing meaningful data, relationships and insights from documents, forms and correspondence to improve business outcomes.
Using built in machine learning capability, ABBYY transforms documents into business value by capturing and validating information in any format at its point of need.
Intelligently digitising documents and automating processes ABBYY helps businesses remove risk and cost while accelerating revenue and driving competitive advantage everyday.
E-Book: New Technologies Give Rise to Content Intelligence
Faster revenue, lower operating costs
Prompt transactions, decision and actions
Control, predictability and compliance
Remove process latency and costs by automatically extracting and understanding content from documents from and channel in any format.
Leverage customer-provided data to accelerate transactions, make smarter decisions and improve customer engagement.
Gain full chain of custody reporting and management enabling fine tuning of results while ensuring end to end compliance with your process and security models.
ABBYY Named Market Leader for Intelligent Document Processing
ABBYY named market leader for Intelligent Document Processing (IDP) in Everest Group PEAK Matrix™ Assessment 2019. The assessment focused on 16 globally recognised technology vendors and assesses product capabilities, improvement features, security, partnership, support in terms of product training, maintenance, consulting, and other support services, availability and adoption of commercial models and portfolio coverage in terms of industry, geography, process areas, and buyer size.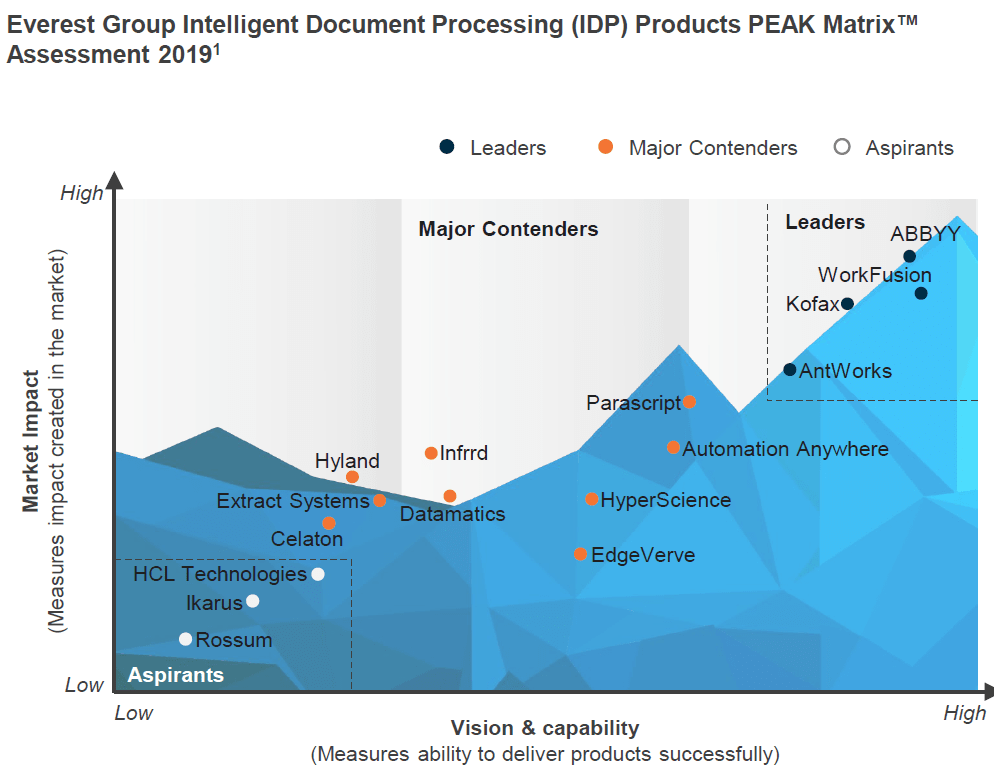 Multi-level documents classification
Automate the task of understanding, separating, and routing documents through AI based classifiers that are trained automatically using the latest in machine learning methods. Whether processing and classifying structured forms, semi-structured documents like invoices, tax, claims or onboarding documents, or completely unstructured documents like correspondence and contracts, FlexiCapture can help you reduce your document handling costs while accelerating the process. No more manual sorting and lebelling needed.
Intelligent data extraction from any source
A single enterprise platform supporting any input source ensuring scalability and extensibility for today and the future. Whether documents are coming from mobile devices, email, fax, document, scanners, ftp or multifunction printersm the FlexCapture platform can support precessing of content from any data source.
Data Validation and Control
Critical data fields, context, entities are identified, validated and automatically processed according to business rules and requirements. The system can be easily trained and uses ongoing machine learning for continuous improvements and cost control.
Visibility into data and processes
Monitoring tools and reports on key parameter, including resources, performance and accuracy, provide process transparency and predictability while giving administrators insight to opportunities for improvement.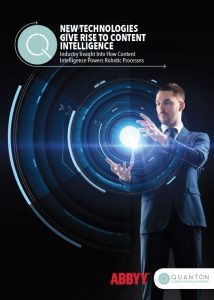 E-Book: New Technologies Give Rise to Content Intelligence
Moving beyond capture to Content Intelligence
Types of processes which can benefit from Content Intelligence
How to apply artificial intelligence to content
FREE INSTANT DOWNLOAD
As change becomes necessary for survival, ABBYY explains how to balance existing business practises with new technology which can change how customers interact with businesses and transform operating models.