Helping public and private sector seamlessly address payroll and Holidays Act remediation with specialist advisory and automation.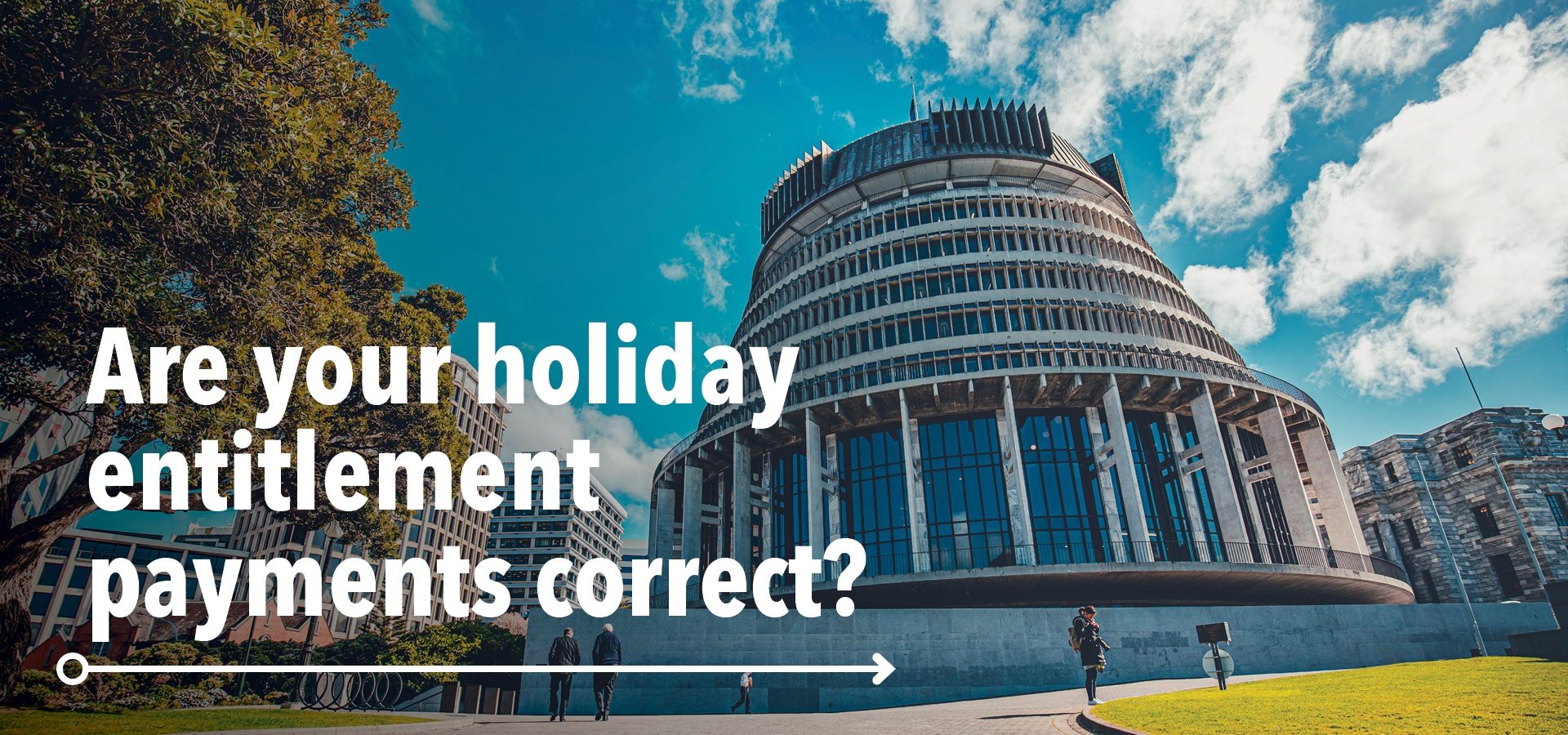 Holiday Act Remediation: The Holidays Act is a complex piece of legislation with varying calculations and entitlements for different leave types. As a result many New Zealand organisations have found it challenging to apply the legislation correctly, when calculating holidays and other forms of leave entitlements.
It is now known that this is an issue which impacted most employers in New Zealand and is due to the complexity of the legislation some leave payment calculations may have been made incorrectly and may not be compliant with the Act.
According to Employment New Zealand over 227,000 employees have collective received $237.7M in arrears payments as at June 2020.
Organisations who believe their could be an issue with their payroll processes are legally obligated to investigate their records and processes.
Undertaking the process can also provide benefits to employers by identifying root causes for historical overpayments, which can be common and can result in significant leakage.
Find Out How We Can Help You.
How we help you with Holidays Act remediation
We apply a proven framework underpinned by specialist advisory services and automation to help organisations remove risks, increase compliance and save in some cases 000's of hours effort and time. 
specialist advisory services help organisations determine if the any Holidays Act (2003) calculations have been calculated incorrectly within their historic payroll, and provide advice on the corrective changes required. 
Once any corrective changes required are approved, we help organisations automate the manual and time intensive process of assessing six years of historic records (from the point where an organisation believes there may be a problem) to identify incorrect payments and calculate remediation payments – potentially saving hundreds of labour hours. 
Where To Start with Holidays Act remediation…
Knowing where to start for business leaders can be difficult. We give business leaders and decision makers definitive information to make informed decisions.
Starting with us is simple. We undertake an initial engagement to complete a compliance assessment which identifies if any areas of the Holidays Act have not been interpreted and applied correctly. Once a compliance assessment is complete organisations will know if they have an issue to address and what process will be required to move forwards.
When completed by external specialists this assessment also provides organisations with auditable artefacts to support the actions taken, which can be important even when it is determined that an organisation has been historically compliant with the Holidays Act.
Does your organisation have a risk of non-compliance?
Every organisation is unique and it is always difficult to determine the potential risk of historic non-compliance.
We have found through experience that there are a number of factors, which, when present increase the likelihood that non-compliance could have occurred. These include but are not limited to: a workforce that works variable hours regularly, payment of allowances, commission and bonuses, regular changes to employees work patterns, work performed over public holidays and multiple employment contracts.
There may also be a number of 'unseen' factors like the incorrect configuration of payroll systems or the incorrect treatment of different pay components which can make it historically difficult for employers to meet the requirement of the act and thereby increasing the risk of non-compliance.
Introduction to Holidays Act 2003
The Holiday Act 2003 was established to promoted a healthy work/life balance for all employees working in New Zealand and to provide for minimum holiday entitlements. The act sets out how employers should pay their employees for annual leave, public holidays, sick leave, alternative holidays, bereavement leave and more recently family violence leave. All New Zealand employers must comply with the Holidays Act.
How does Holidays Act remediation affect employers?
From the point employers become aware that there could be issues in the way they have paid holiday and leave entitlements they are required to investigate the potential problem for six (6) years prior and remediate any errors found.
Depending on the size of your organisation, remediation projects can take over a year to complete and require extensive stakeholder engagement, potential process and technology change. There will also be additional impacts under other legislation such as the Unclaimed Money Act 1971.
Remediation of payments under the Holidays Act is required by law in New Zealand and the Ministry of Business, Innovation and Employment (MBIE) can seek to issue an enforceable undertaking, which would require organisations to undertake a remediation review of their leave payments. Organisations issued with an enforceable undertaking can expect their actions to be closely scrutinised by MBIE.
What organisations and businesses have to do for Holiday Act Remediation
Quanton have developed a five stage framework underpinned by specialist advisory services and automation to support public and private sector organisations to optimise the process of holiday act and payroll remediation with increased efficiency and greater accuracy and compliance.
The framework and process is designed to support organisations to address the full lifecycle and holistic requirements of Holiday Act remediation.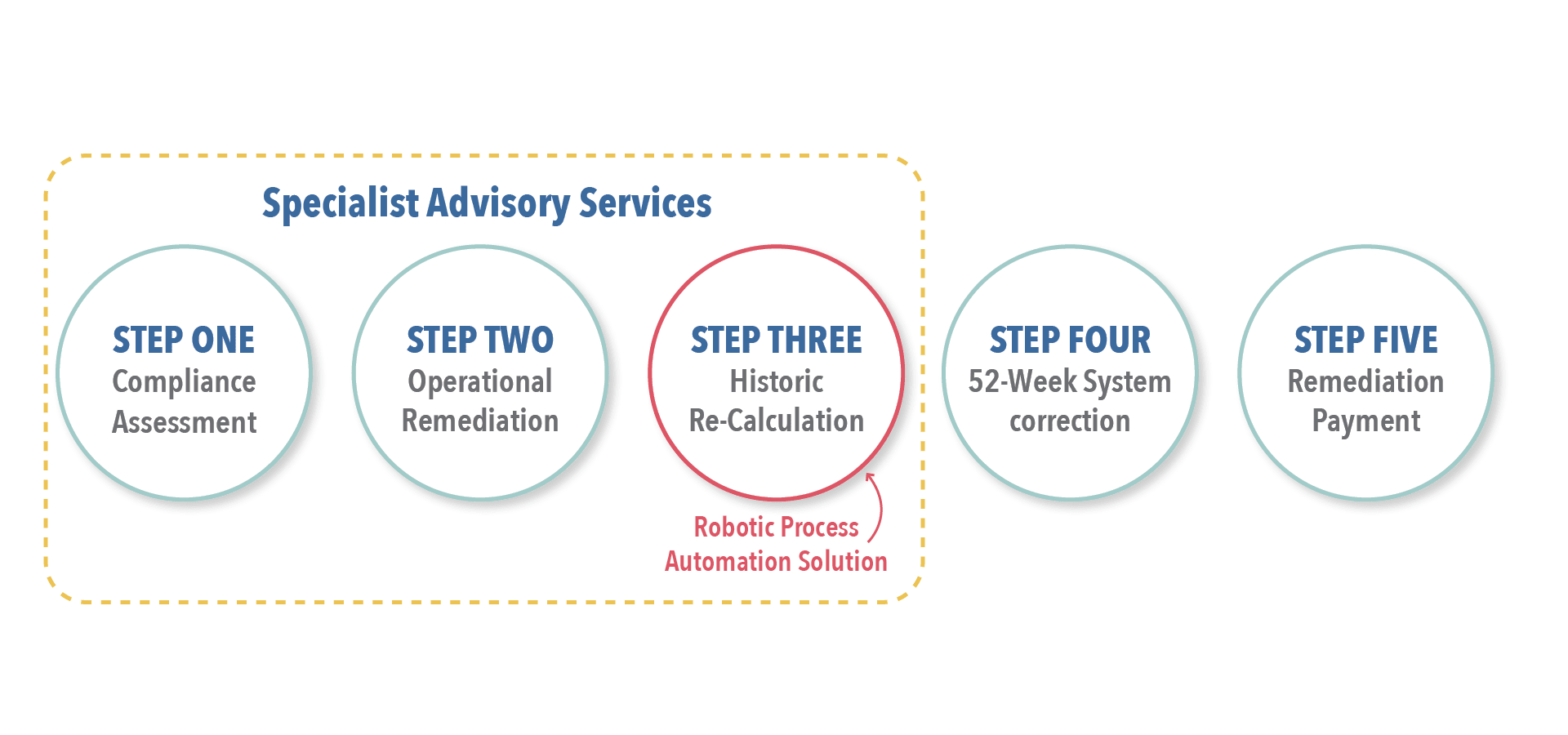 Step One: Compliance Assessment
The purpose of a Compliance Assessment is to (i) identify if an individual organisation has incorrectly interpreted the Holidays Act 2003 and (ii) qualify the calculations that have been performed incorrectly.
The intent of this step is to determine if non-compliance has occurred that the specific areas where there is non-compliance and is not designed to determine the depth or extent of non-compliance.
If it is determined that an entity has non-compliance within processes or calculations, recommendations will be provided on the remediation and corrective approach required to bring practices in line for an organisation. Recommendations are tailored to every organisation, which will be unique based on their sector, structure and operating model.
Step Two: Operational Remediation
Once the compliance requirements and corrective changes required are approved, the third step is for an entity to implement any changes to their payroll systems, processes and applications from a point in time.
Step Three: Historic Recalculation 
Once employers have determined the approved changes for any payments that were being calculated incorrectly, historic remediation can begin.
Employers are required to perform remediation for incorrect payments for a period of six (6) years from the date they become aware of a potential issue. This means that if a potential issued is identified on August 24th, 2021, remediation must be performed for all affected payments dating back to the start of the pay period that includes August 24th, 2015.
Historic data is extracted from payroll systems to be processed by Quanton's Robotic Process Automation capability.
Quanton's specially designed Robotic Process Automation solution interrogates payments to all individuals within the remediation period. Once the analysis for historic remediation is complete, employers will know (i) which individuals are affected, (ii) what the value of financial remediation is for each individual employee and (iii) what the total value of financial remediation is for the entity.
Using Quanton's specially designed Robotic Process Automation capability in this stage can save organisations large amounts of time, increase accuracy and provide auditable records for compliance purposes.
This is the first point where employers can form a valid estimate for the number of employees which are effected and the value of payments required. The estimate will be refined as any issues identified by the automation model are addressed with human intervention.
Step Four: 52-Week System Correction
Is the correction of payments from the date of system correction for 52 weeks.
On the conclusion of the 52 week correction period organisations will revert to 'business as usual' operations, provided the payroll systems, processes and applications used by the individual organisation have been successfully updated to meet the approved changes required.
Step Five: Remediation Payment 
The final step is for organisations to pay out any underpayments. 
This process is simple for current employees. There can be high levels of additional effort to locate and contact historic employees and additional legislation such as the Unclaimed Money Act (1971). 
Find out how we can help your organisation with Holiday Act Remediation