Transform your operating model with end-to-end process intelligence
Process and task mining is an analytics discipline for discovering, monitoring and improving processes in there 'as executed' state, not as you think they might me.
Processes are the day-to-day running of your enterprise. That's why entire departments and teams are dedicated to operational excellence – and why process mining is an essential part of their toolkit, enabling organisations and professionals to automatically build interactive digital twins of their processes, analyse them in real time to identify bottlenecks, and predict future outcomes to facilitate decision making for technology, business process automation and operational excellence investments.
When everything operates efficiently, a company is agile enough to adapt easily to outside forces, leaving more time to drive revenue through internal innovation, quality improvement and strengthening customer relationships.
Uncovering The True Story

In a technology driven world, almost everything you do within your organisation leaves behind a digital footprint.
These tiny data traces are more than just numbers. They contain the real story behind how organisations and processes actually work.
Hidden within them are habits, risks and process behaviours businesses are usually unaware of. Using these traces, process owners and managers can create dashboards and visualisations based on solid facts rather than on thoughts and instinct, leading to better informed decision-making and process improvement prioritisation.
Things Are Rarely As They Seem
No amount of process analysis and design work ensures that people work the way you expect.
To understand what people do, you need to monitor what actually happens. How long do processes really take? Do people adhere to the standard? How many variants of processes do we have?
By connecting the worlds of people, processes, systems and data you can monitor process performance and compare theory to reality.
With this connectivity it becomes easier to ensure your transformation and improvement initiatives finally deliver the expected benefits.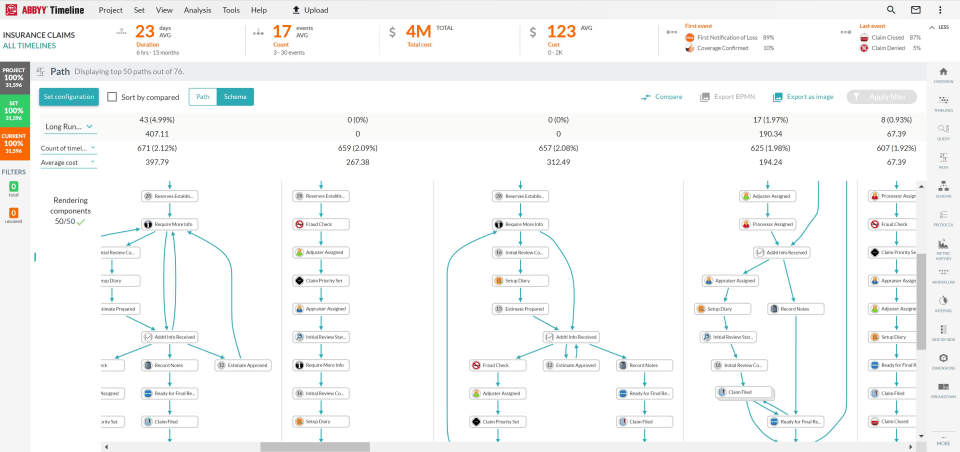 The Benefits or Creating Process Intelligence
Process and task mining create a digital twin of processes, helping business define the as executed state and find the bottlenecks and inefficiencies hampering performance and identify the opportunities for transformation with fact-based data.
It's like taking an x-ray of your business processes – and providing companies with the insights they need not only to identify where the gaps are in their processes, but understand why they are occurring, the impact they are having on business outcomes and what you can do to fix them.
Process and task mining technologies enable you to:

Transparency and visibility.
Get 100% objective, real-time oversight of your as executed processes based on the data and event logs in your IT systems (process mining) or desktop data from users (task mining).
Quantify the impact of your process gaps.
Demonstrate value before and after implementing a fix, change or transformation.
Informed decision-making.
Make data-driven suggestions complete with expected return on investment (ROI) and full, objective visibility into your process gaps and how to fix them – driving stakeholder buy-in and alignment.
Priotitise initiatives effectively.
Prioritise and direct energy and resources as needed by quantifying the impact of process gaps on business outcomes.
Get to value quickly and easily.
Delivery value quickly and cheaply – Quanton's process and task mining as a service or cloud based deployment models have a short-time to value.
Process Mining or Task Mining? 
Both process mining and task mining can deliver tangible value for businesses however they serve different use cases and for that reason cannot be boiled down to a decision of one over the other.
Process mining discovers what the business does by mining through event logs. Task capture discovers what the user does by recording user actions and application screens at a user interface (UI) level.
Whichever approach or combination of approaches is correct for a given process or use case, the critical factor will be the ability to seamlessly link data from process mining and task mining to create a single and transparent view of people, processes, technology and data.
Quanton's team offers end-to-end capability to suit your needs, whether it is selecting and implementing a process mining technology for your team, building internal capability or providing process mining as a service.
Process Mining as a Service
For organisations requiring rapid support or short-term capability to solve a targeted problem Quanton can provide end-to-end technology and resources as a service.
We do the setup, we do the analysis and we provide the recommendations.
Technology Deployment and Capability Building
For organisations seeking to establish or enhance their internal capability Quanton can provide end-to-end services which support you to select, implement, deploy and support process mining technology.
Our consulting services can also support organisations to grow or enhance their internal team skills optimising internal capability.
Process Mining Technologies We Work With
ABBYY Timeline
ABBYY Timeline is the only process intelligence platform that combines deep-rooted analysis and predictive classification and search capabilities with extremely granular monitoring and alerting. For businesses, that means gaining full transparency of your processes, answering deeper questions about them, and having the data to support technology investments for process improvement.

UiPath Process and Task mining offers the most flexible, powerful and enterprise ready development and operations platform for professional process mining, used to build process intelligence applications for business improvement. It's software visualises how best in class performance can be achieved faster and more effectively.