Quanton Offer Two Leading Automation Technologies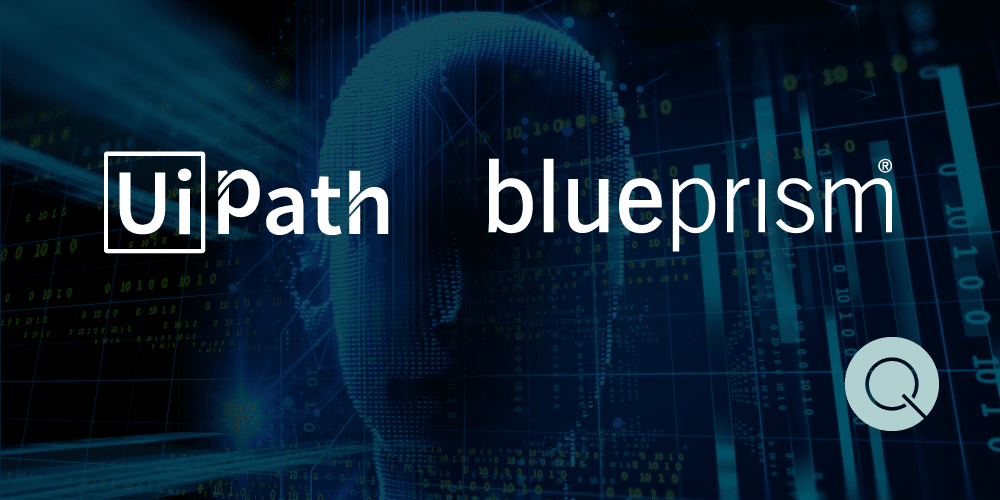 Quanton is excited to annouce the addition of UiPath to our technology offering. UiPath, alongside Blue Prism, was re-affirmed in The Forrester Wave™: Robotic Process Automation, Q2 2018 as two of the leading RPA technologies globally.
Since Quanton first introduced Robotic Process Automation to the New Zealand market in 2016, local demand has begun to expand rapidly. 
New Zealand originating average monthly Google search volumes for Robotic Process Automation increased 90% and 950% respectively for the 12 and 24-month periods ended May 2018. The level of interest demonstrated through local Google search volumes outstripped international trends which showed a 22% and 309% increase respectively for the same 12 and 24-month periods.
Global organisations may have a head start on adoption, but New Zealand organisations are wasting not time or effort catching up to global counterparts and competitors.
A similar trend is evident when looking at average monthly New Zealand originating Google searches for the three recognised market leading technologies which collectively increased 76% and 381% for the 12 and 24-months periods ended May 2018.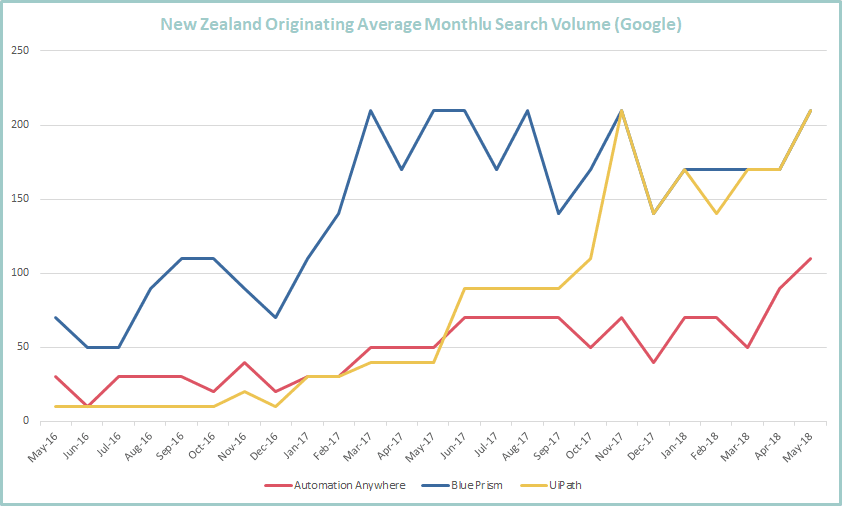 As the market continues to grow and develop a broader range of needs are emerging. Quanton's role in the market is to aid enterprise organisations to make smart investment decisions concerning the virtual workforce. Based on the speed the market is developing, it was evident that a second leading technology was the only way to continue to meet our commitment to the market.
In recent commentary Professor Leslie Willcocks (London School of Economics) claimed that 30-50% of initial RPA projects are stalling, failing to scale, being abandoned or moving to other solutions. This claim was expanded based on analysis from the London School of Economics which suggests that 25% of problems come from tool selection. These ideas further validate Quanton's decision to adopt a second technology to ensure that we can provide the best technology solution based on the unique needs of every organisation.
Over the last two years, Quanton has focussed on leading the development of the local market with beach-head technology Blue Prism, who pioneered the development of RPA and have been at the vanguard of technology platforms.
Blue Prism offers a highly secure and scalable technology solution, and Quanton will continue to support and promote Blue Prism with the same level of commitment that we have over the last two years.
UiPath was rated as having the highest bot development and breadth of use cases and support of all technologies. Combining these attributes with their open API model and modular approach to licensing we believe that UiPath will offer a highly versatile and flexible automation solution.
Forrester Wave™: Robotic Process Automation, Q2 2018 rated UiPath higest overall of all RPA technologies assessed. 
Quoting our Managing Director, Garry Green "Both UI Path and Blue Prism have invested significantly in developing world leading RPA platforms and an Intelligent Automation ecosystem.  We are pleased to be partnered with these pioneering thought leaders, expanding our service offerings and position as the automation specialists for the New Zealand Market."
Enabling Quanton to provide the same benefit to organisations who choose UiPath, Quanton has employed senior team members with UiPath experience in a range of sectors including construction, telecommunications, banking, insurance and transport and logistics for major global brands including Maersk Line, Singtel (Singapore Telecommunications) and Alliance Bank.
Providing flexible, low-risk implementations solutions Quanton have established New Zealand's largest team of fully accredited and locally based RPA professionals. 
Testament to UiPath is that over 50% of the Fortune 10 in America and top 20 in Europe are UiPath customers alongside national and regional government agencies; And two of UiPath's largest RDA/RPA programmes are also located here in the Asia Pacific region.
In 2017 UiPath were awarded winner of Outstanding Achievement in the use of AI at the CognitionX AI Innovation Awards & Blue Prism has been recognised as Best Robotic Process Automation Company at the 20185 Artificial Intelligence Breakthrough Awards.
Dentsu X, a global media agency now saves more than 10,000 hours on a monthly base and SMBC, a major Japanese banking organisation with over 29,000 staff has completed the full-scale implementation of attended and unattended software robots supporting multiple offices. Over 1 million-man hours have been saved this year with savings expected to grow to 3 million-man hours in 2020.
Here in New Zealand, the countries most mature RPA programme is now saving over 40,000-man hours annually and a major health organisation has identified $1.5 million in potential benefit from the small-scale application of Robotic Automation and a strong community of RPA users continues to establish.

The UiPath Enterprise RPA platform delivers rapid automation of manual and rules-based repetitive processes. Moreover It's been used to automate millions of tasks for business and government organisations all over the world. UiPath offers enterprise-wide benefit like improvements to productivity, customer experience, and employee job satisfaction.

A connected entrepreneur enterprise is at your fingertips with a digital workforce capable of self-learning and continuous improvement. Empower your people to automate – freeing them up to create, build and share their innovations. Not to mention the potential to achieve rapid return on investment.