Conversational AI and Automation
The Future of Customer Service and Virtual AssistantGo to article
Conversational AI normally refers to the use of speech technologies like Natural Language Processing (NLP), sentiment analysis and speech to text or text to speech, to automate communication and create personalised experiences in messaging apps, speech-based assistants and chatbots – at scale.
In 2019 Gartner predicted that 25% of customer service and support operations will integrate virtual customer assistant technology across engagement channels by 2020, up from 2% in 2017.
Conversational AI will change every aspect of when, where and how you engage and communicate with your customers. In the future businesses will need to hold seamless conversations with customers across whatever channel they want to use at the time. Those conversations could be short one-off requests and response, or part of a longer-running customer engagement.
Whether it's in Facebook messenger, a mobile app or by text message – It's time to flip the model and be where the customer wants the business to be and not where it's most effective of cost-efficient for the business to drive the customer.
Book a live demonstration
Book a demonstration today for an exclusive discussion on how Conversational ai works and what it could do for your business.
Demonstrations take 60-90 minutes based on agreed content and are delivered online or on-site.
See use-cases executed live
Global case studies
Future opportunities with ai
See conversational ai in action
Based on the combination of Natural Language Processing (NLP) (including intent analysis and response), a chatbot interface and Robotic Process Automation (RPA) Quanton built a proof of concept for a conversational ai platform capability of interacting with users through voice or text, interpreting a request and completing tasks.
Underpinned by Google cloud services and Blue Prism the proof of concept is channel agnostic which means that it could be integrated with voice channels like a call center interactive voice response (IVR) or text channels like a chatbot, website messenger, Facebook Messenger or Slack.
The conversational platform was used to determine the intent of the customer and collect the required information like what items were wanted and in what quantity before calling Blue Prism, a Robotic Process Automation (RPA) platform, to initiate the process and serve the required data. The RPA solution then executes the task by accessing target systems, in this case a website, and provided an outcome response back to the customer.
Conversational ai proof of concept overview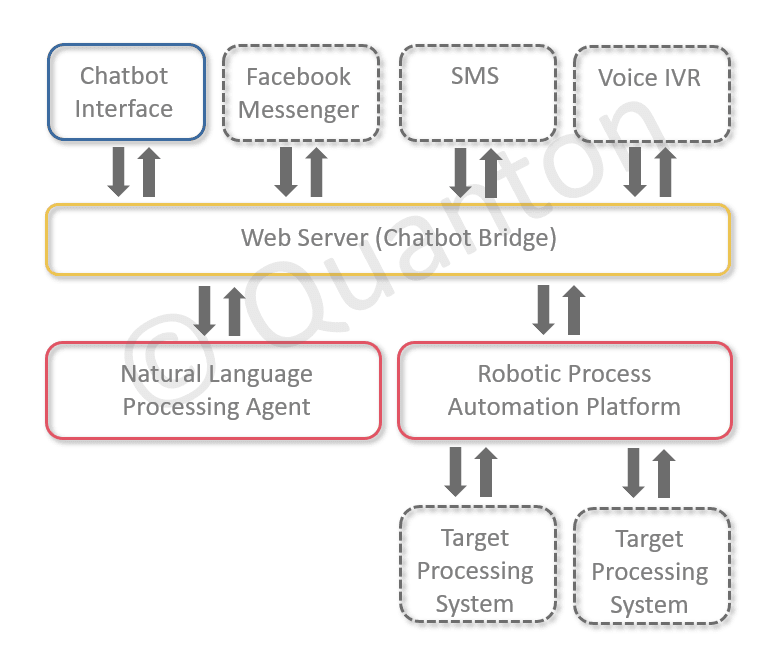 Conversational ai as capability
Conversational AI as a concept is not new. Businesses have been using IVR's for decades and chatbots have been a clear trend in local and global markets, however, conversational technology has tended to be directly linked to the solution it is contained within.
While this approach is valid, the clear shift in the market is a movement towards creating conversational platforms which are channel agnostic, for example, the ability to integrate the platform with text and voice channels alike such as Facebook Messenger, a chatbot, your website, SMS or IVRs versus single solutions such as a chatbot.
Designed, implemented and managed correctly Conversational Ai platforms have the potential to be a strategic asset for businesses. Powered by AI, as a single source of truth for conversational customer experiences the numerous positive impacts can include broad cost reductions and customer experience improvements.
What is being achieved with conversational ai?
The emergence of conversational ai and it's application in conjunction with automation is being widely adopted globally and one of the key trends that was very evident at the Ai Summit with multiple presenters sharing case-study results.
US-Based cable television provider delivers 25 million utterances using NLP and 70,000 predictive recomendations daily – Achieved 10-40% improvement to NPS score per transaction.
Global insurance provider reduced call handing times, improved customer satisfaction by 7% and now handles over 25% of all customer calls without any agent involvement.
Global fuel company achieves 97% answer accuracy and a 40% reduction in call volume to the contact centre for lubricants business.
How conversational ai works
New Zealand business need to adopt future-ready business models to remain relevant and sustainable.
Automation capability and a conversational ai platform is not necessarily one technology. Often, multi-technology solutions to provide the greatest level of scalability, flexibility and durability, relative to the existing architecture and technology mix of a business.
More importantly automation and conversational ai capability are one part of an 'ai operating model'. Conversational ai can be implemented independently or as part of a wider road-map and digital transformation strategy that includes Machine Learning, automation, vision technologies and data analytics and visualisation.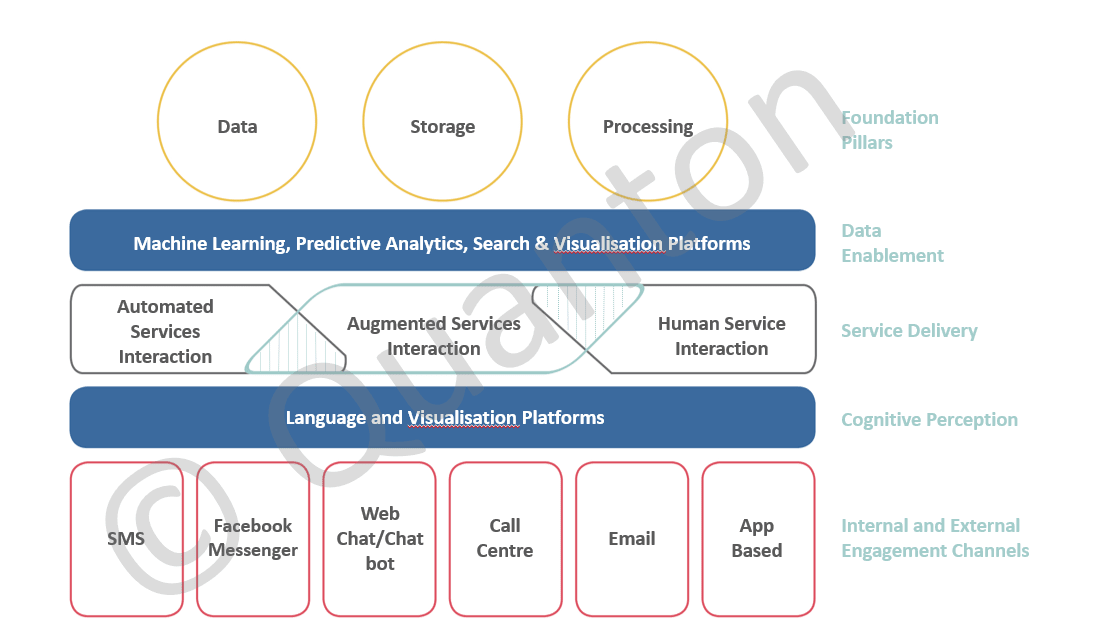 In 2016 we launched the first Blue Prism Robotic Process Automation programme in NZ. Since then we've helped build the largest business process automation programmes in New Zealand. Moreover our thinking regularly makes headlines in the media.
At Quanton we transform your business to a new, future focused way of working. We take a pragmatic approach to automation – helping businesses build internal capability and finding sweet spots where automation can have the biggest impact on your business. With quantifiable benefit.
Find out more about Quanton
Book a live demonstration
Book a demonstration today for an exclusive discussion on how Conversational ai works and what it could do for your business.
Demonstrations take 60-90 minutes based on agreed content and are delivered online or on-site.
See use-cases executed live
Global case studies
Future opportunities with ai