Harness the power of machine learning to improve decision making and business results.

How DataRobot Delivers Enterprise AI
DataRobot offers an advanced enterprise AI platform that democratises data science and automates the end-to-end process for building, deploying and maintaining artificial intelligence and machine learning at scale. Powered by the latest open-source algorithms and available in the cloud, on-premise or as a fully managed AI service, DataRobot gives you the power of AI to drive better business outcomes.
Automated Machine Learning
Automated Machine Learning is the process of automating the process of applying machine learning to real-world problems. AutoML covers the complete pipeline from the raw data set to the deployable machine learning model.
In a capability characterised by skills shortages, DataRobot's AutoML capability is a solution to the ever-growing demand for Machine Learning.
The high degree of automation in AutoML allows non-experts to make use of machine learning models and techniques without an expert being required to become an expert first.
Automating the process of applying Machine Learning with DataRobot, offers the advantages of producing simpler solutions, faster creation of those solutions, and models that can often outperform hand-designed models.
Ingest your data
Select the target variable
Build hundreds of models at one click
Explore top models and get insights
Deploy the best model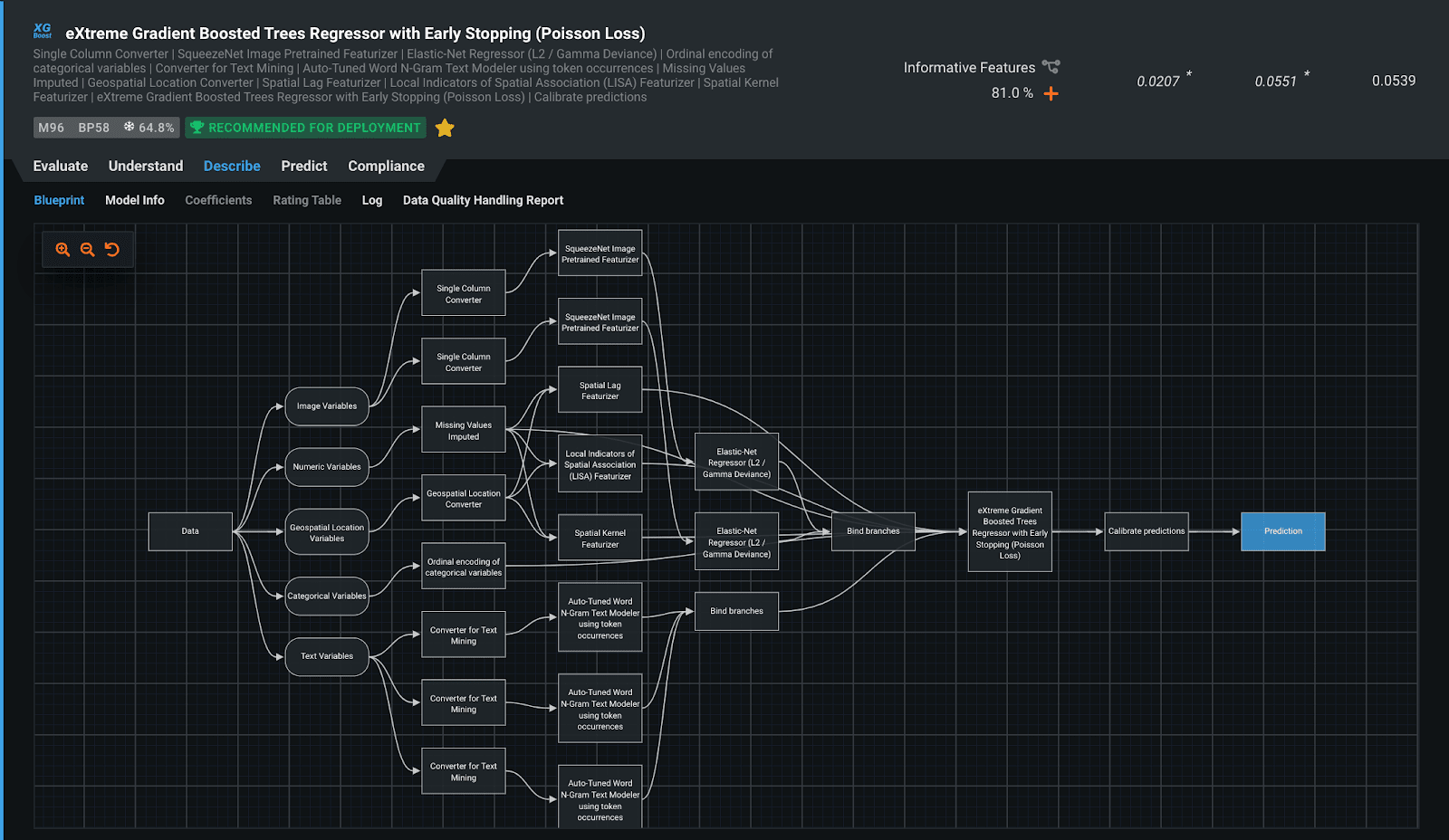 End-to-End Acceleration
DataRobot automates the entire data science lifecycle from raw data to value. Built-in 'guardrails' at every step ensure best practises are consistently followed – from automated data preparation and feature engineering that gets your data ready, to automatic model selection, training, and testing to recommend the best option for your production environment.
DataRobot event automates model deployment, monitoring, and management so you always get the most accurate predictions possible.
Diverse Data and Models
DataRobot allows you to move beyond typical automated machine learning and build innovative new models from incredibly diverse types of data.
It contains a massive library of open-source and proprietary models from classic regression and complex multi-class classification, to the latest deep learning algorithms and more with every release.
DataRobot's models work with tabular data, raw text and images, and are obsessively tested  on real-world use cases to offer practical applications of next-level AI for your entire organisation.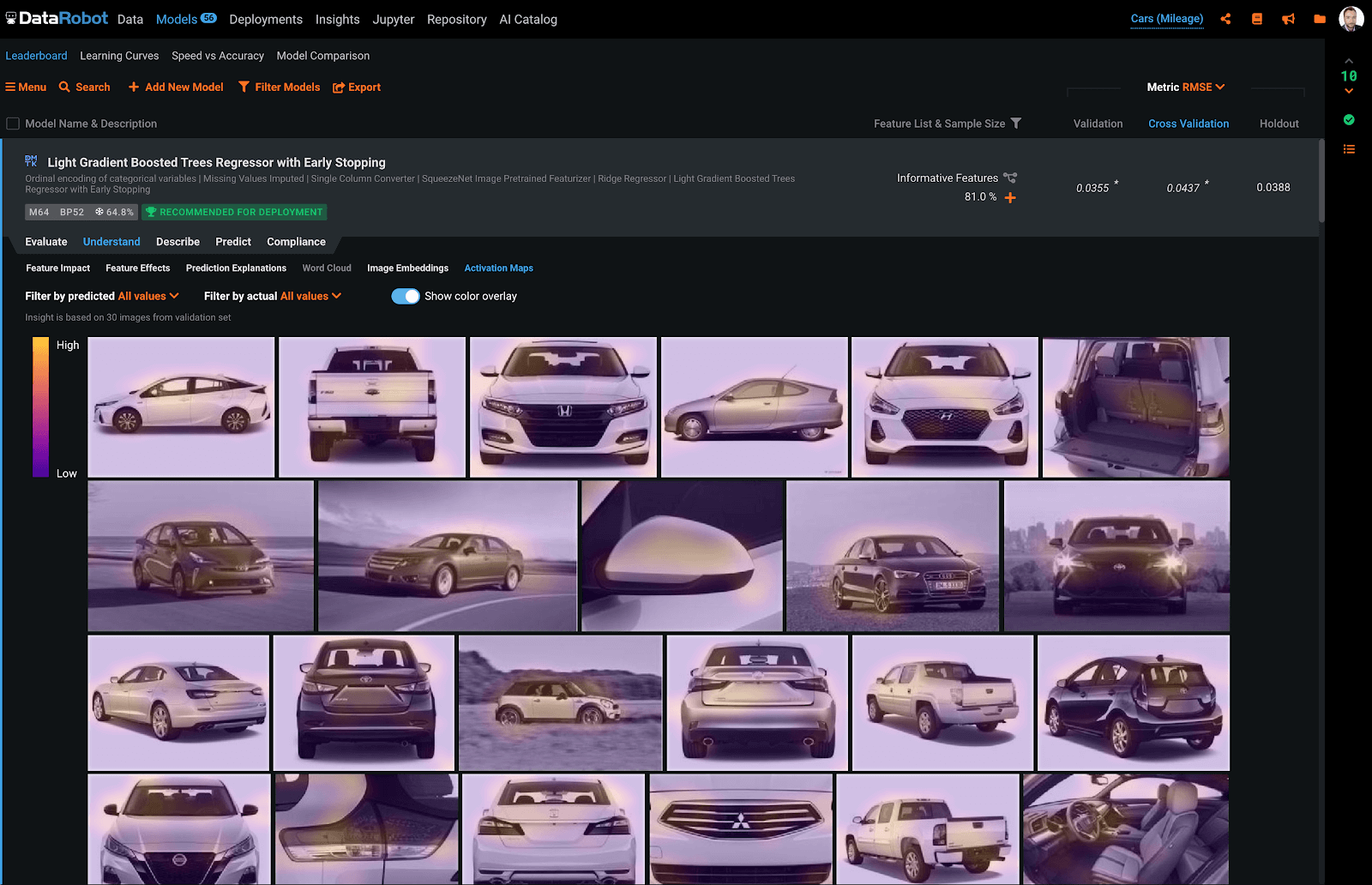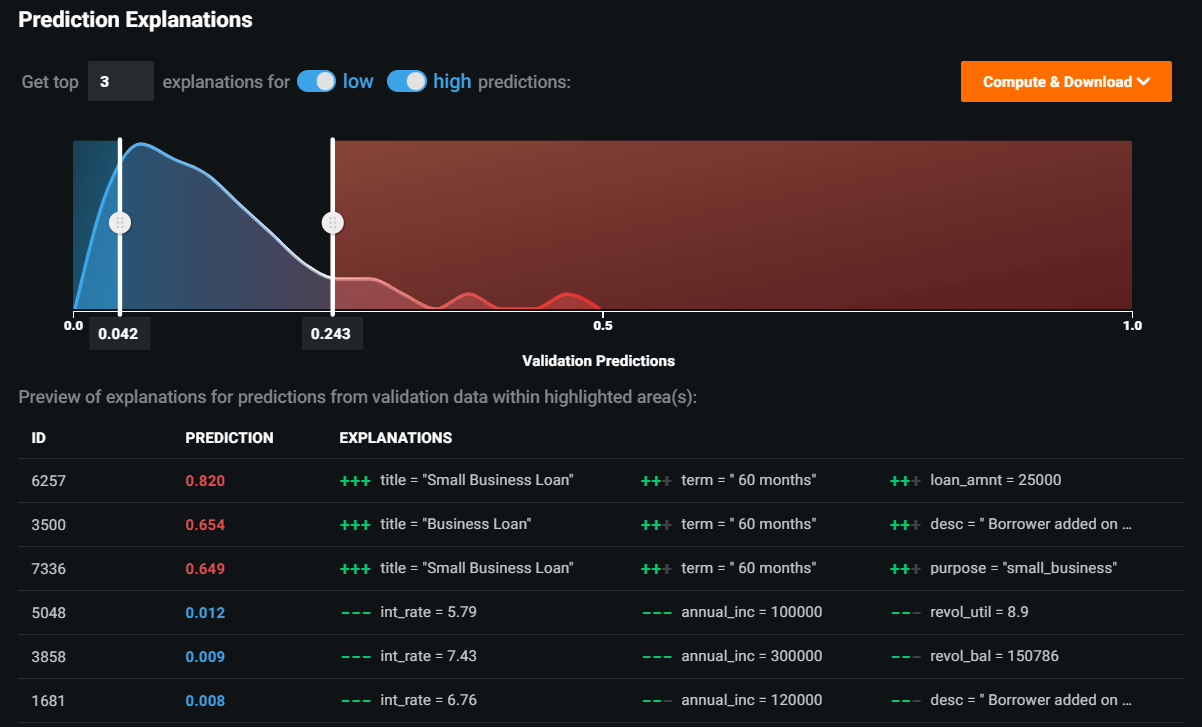 Human-friendly explanations
DataRobot provides fully explaiable AI through human-friendly visual insights and automated model documentations with blueprints that describe each step in the modelling process and algorithms used.
You can evaluate any model using DataRobot's Lift Chart, ROC Curve, Confusion Matrix and more.
DataRobot also provides visual explanations for every single prediction so you can understand exactly which features influence decisions.
DataRobot's explainable AI gives you the confidence to put your models into production, demystifies your AI for risk and compliance purposes, and delivers a level of trust your business can rely on.
Fully Operational Predictions
All DataRobot models are instantly ready for production and can be deployed with a single click to make your AI fully operational.
You can monitor models via a centralised dashboard to see service health and usage in real-time.
Manage model accuracy to easily understand which features ave drifted and deploy updates with no service interruption.
DataRobot gets your models out of the lab so you can realise return on investment from your AI today.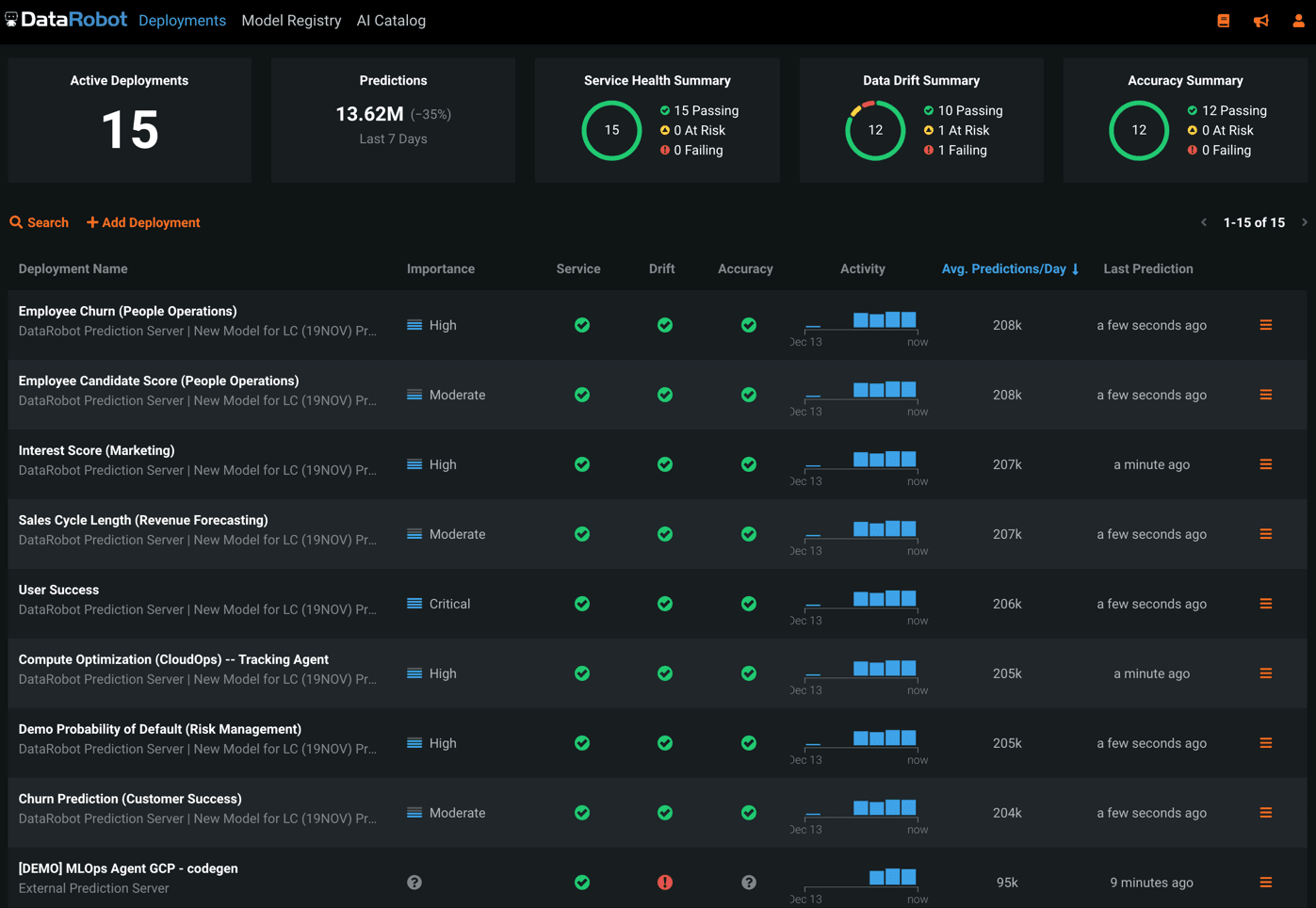 What You Can Do With DataRobot
Interact with predictive models to optimise outcomes and critical support decisions.
Many organisations struggle getting the transformational power of AI embedded into their operating models to be applied at scale in business processing and critical decision making. As a result significant opportunities are being missed to understand customer requirements, optimise processes and drive better business outcomes.
Using DataRobot, any machine learning model can be turned into an AI application, enabling business users, data scientists, and anyone in your ecosystem to interact with the predictive insight of the underlying model.
Users get the power to experiment with different scenarios, predict results and make more informed business decisions.
It's time to empower your organisation to control and consume the output of predictive models in a whole new way.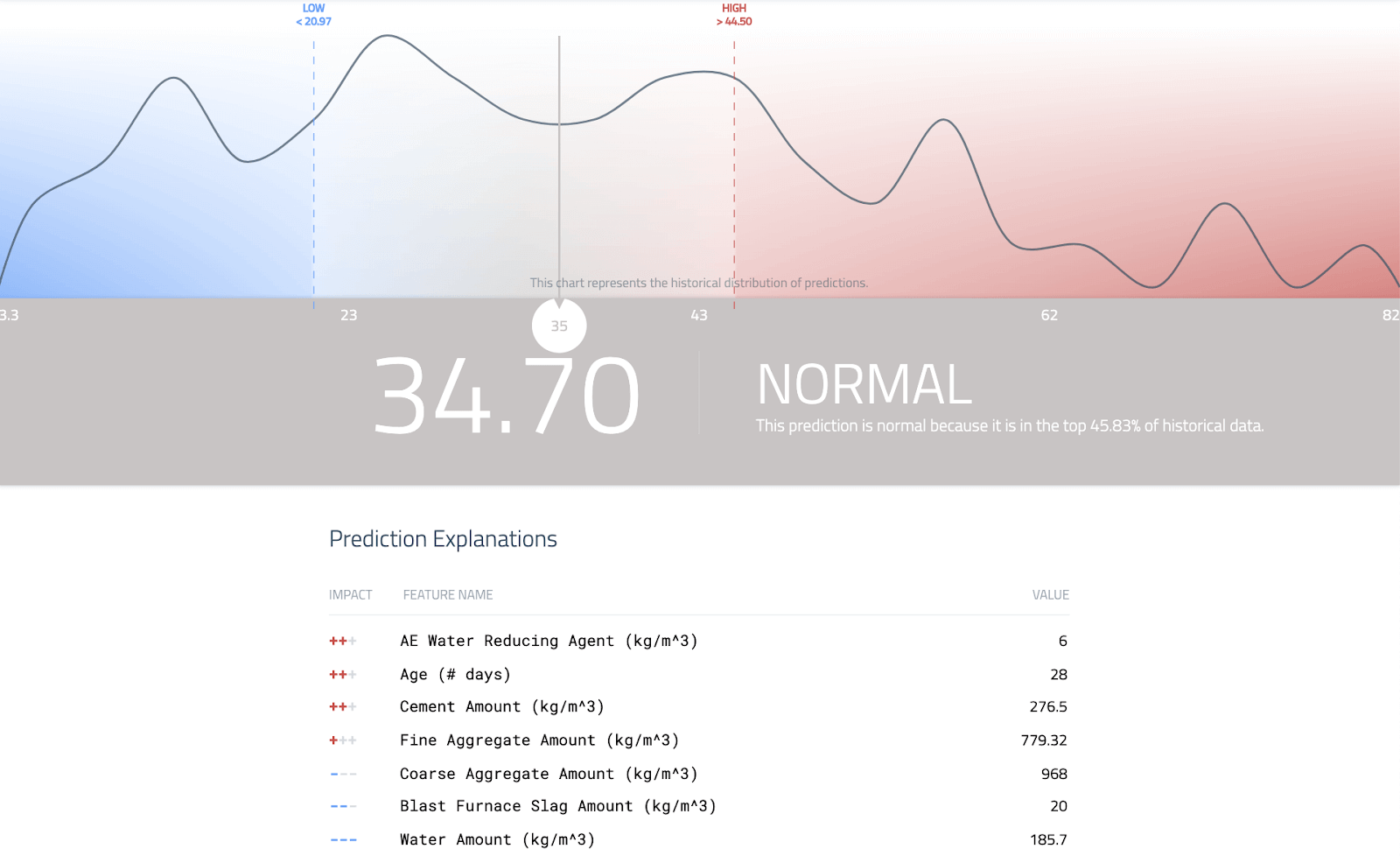 Probability Based Predictions
Use DataRobot to make predictions one-at-a-time or make a large batch or predictions by importing a file.
With this crucial application you can compare a prediction to historical results, view prediction explanations, and adjust input values to see how they impact these results.
WHAT-IF SCENARIOS
DataRobot can help you make a base prediction, then change one or more inputs to create new scenarios and compare them side by side. You'll be able to answer questions such as, "Do changes in input values have the expected effect on the results?". Then, select the option that provides the best outcome for your business.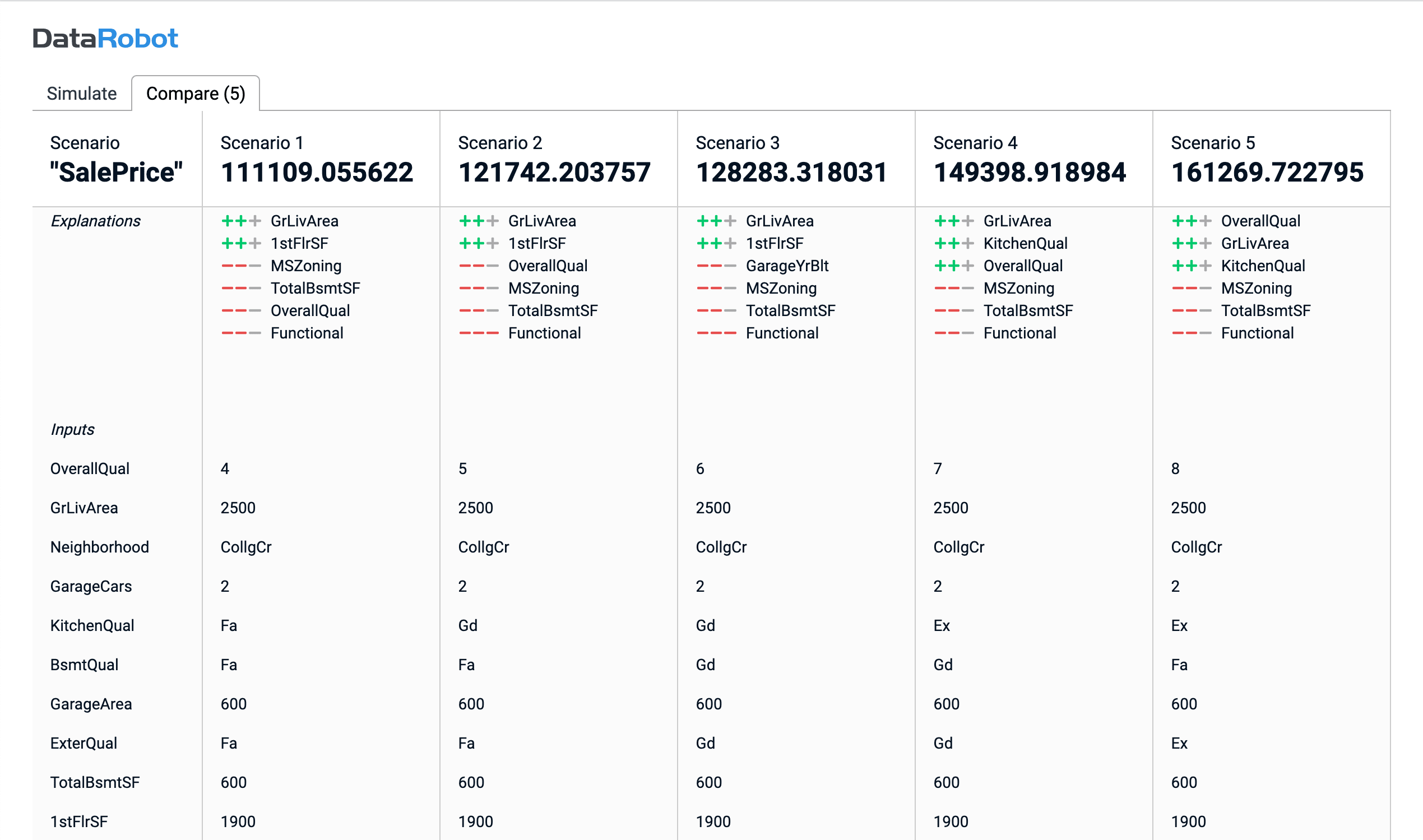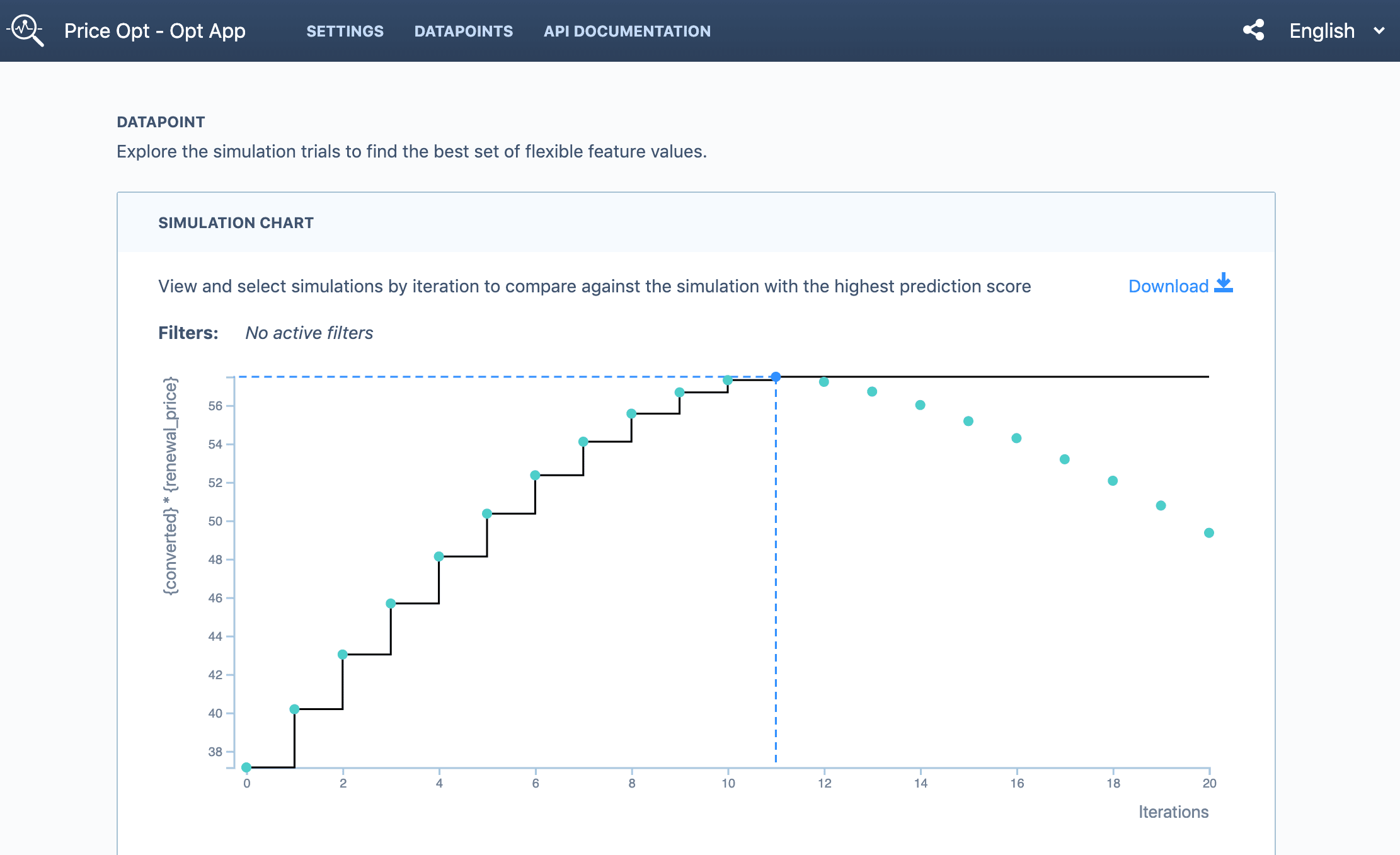 Business Optimisation
With DataRobot you can run hundreds of simulations to identify the ideal combination of input values to maximise your target outcome, which could be sales, profit, quality, cost, speed.
Specify any constraints for the values to be optimised, apply filters to narrow down results, and easily identify the best scenario.
At Quanton we transform your business to a new, future focused way of working. We take a pragmatic approach to automation – helping businesses build internal capability and finding the sweet spots where automation can have the biggest impact on your business. With Quantifiable benefit.
In 2013 we launched the first Blue Prism Robotic Process Automation programme in NZ. Since then we've helped build the largest business process automation programmes in New Zealand. Moreover our thinking regularly makes headlines in the media.