Robotic Process Automation and Blue Prism Training
Expedite the acquisition of knowledge, skills and abilities required for internal capability and in-house centre of excellence.
Designed to meet the needs of enterprise, Quanton offer a range of fully certified training programmes designed to provide individuals with the knowledge and skills to build, deliver and manage RPA programmes, and the digital workforce in their organisations.
From process developers to analysts or managers, Quanton can support your orgnisation to establish an in-house centre of excellence.
Download Training & Development Overview
Download Quanton's Training & Development prospectus showing available courses and accreditation.
Why Develop Internal Capability?
Cost control, resource efficiency and return on investment.
Create 'always-on' internal resource available on demand.
Leverage internal process knowledge.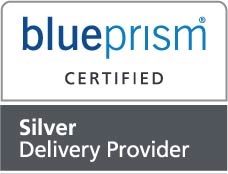 To become a Process Developer, individuals participate in a series of progressive programmes designed to support staff to achieve globally recognised accreditation.