TrustPortal, Enabling Real-Time Interaction Between Humans and Software Robots
TrustPortal Empowers Organisations Currently Using

Blueprism

to Extend the Reach of Automation With Dynamic User Interactions

TrustPortal enables digital platforms and robotics to work together, seamlessly integrating mobile, web, telecoms and legacy systems through a dynamic robot to human software interface.
This technology allows humans to interact directly with software robots and extends the application of Blue Prism software to a wider range of processes and across a wider range of channels. For example enabling customer to initiate automated processes from a website interface. TrustPortal increases the volume the breadth of processes which can be automated, enabling organisations to extend the benefits of automation further from cost reduction to compliance, efficiency and processing quality.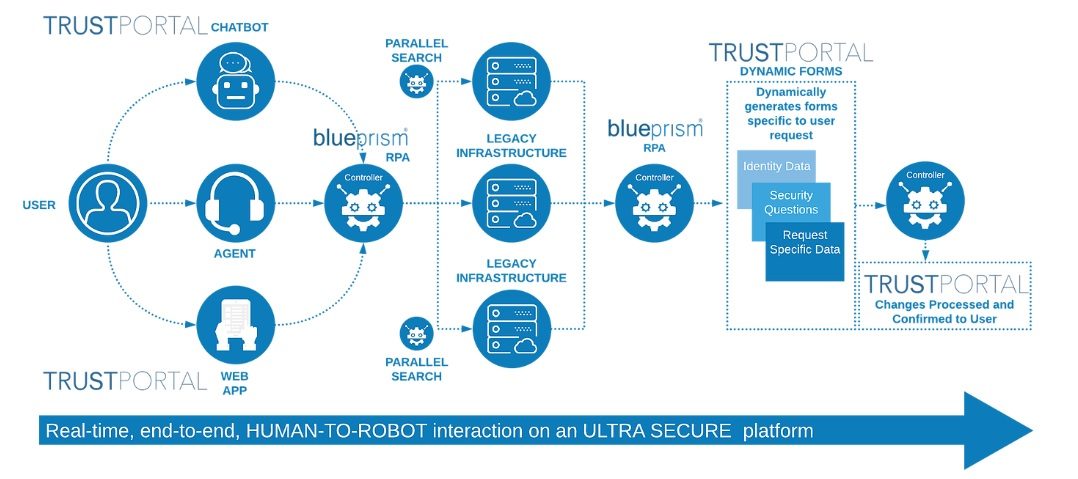 What Does TrustPortal Do?
Customer Initiated Automation 
The TrustPortal technology platform provides an dynamic omni-channel interface which can be applied to any customer facing digital platform including websites and chatbots. This integration makes it possible for customers to directly initiate processes for example a customer completing a credit card application online and initiating the application process in real-time.
Remote Desktop Automation
Combining the TrustPortal platform with Blue Prism in an organisation's internal environments creates the capability of User Assisted or Remote Desktop Automation (RDA) whilst retaining and leveraging the benefits provided by Blue Prism, for example, enterprise-level security, centralised, control, and scalability.
User-In-The-Loop
TrustPortal makes it possible for humans and software robots to dynamically interact during Robobtic Process execution. For example processes which can't be completed by RPA because of business rule exceptions are currently referred to the human workforce for assessment and manual processing. This interaction allows robots to request additional data or decision making criteria in real-time, allowing robotic automations to continue running where exceptions would normally lead to an exception.
What Can TrustPortal Give You?
TrustPortal enables organisations to extend the application of Robotic Process Automation across a wider breadth of processes and use cases by enabling direct human-to-robot interactions from customers and staff. 
Out of the Box Chat Bot Functionality
Dynamic Human-to-Robot Capability
Digital Passport: Secure Data Sharing Across Multiple Organisations
Omni Channel Digital Interfaces
Highly secure enterprise grade encryption
Open API enabling use with any AI engine
Built-in Integration to Google AI engine
Built-in Integration to BluePrism Robotic Process Automation technology

The first to deliver Robotic Process Automation in New Zealand, Quanton are New Zealand's market leaders assisting enterprise organisations to make smart investment decisions for the virtual workforce. Offering multiple leading technologies and with New Zealand's largest team of locally based, accredited RPA specialists Quanton can deliver the best solution based on the unique needs of New Zealand's largest enterprise.