Enterprise Process Automation
Automation of Business Process as a Lever to Drive Operational Performance
Quanton's Enterprise Process Automation service works with leading New Zealand organisations to establish Robotic Process Automation (RPA) as a strategic process management capability to achieve autonomous automation of business processes.
Enterprise process automation will fundamentally change the back office operating models of enterprise organisations and the performance that New Zealand businesses can achieve enabling customer centric and near real time process delivery.
The benefits of enterprise process automation are numerous. Using RPA, organisations gain the ability to improve operating performance through increased accuracy and processing speed combined with the potential for greater output, but organisations would also be remiss to under-estimate the potential impact of indirect benefits including risk assurance, compliance and centralised control. The enterprise landscape is both broad and evolving. For a better view of the overall landscape and where RPA is best positioned within enterprise automation download our free e-Book, positioning RPA for success.
Locally, the application of enterprise process automation to operating models is in its infancy but leading New Zealand organisation are taking steps, beginning to apply RPA as a strategic capability. Quanton is here to help organisations navigate the digital revolution, and prepare for the future opportunities that enterprise automation will present.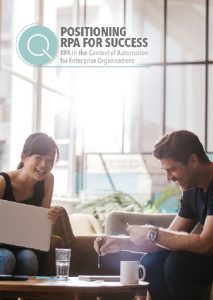 E-Book: Positioning RPA For Success
RPA In the context of Automation for Enterprise Organisations – FREE INSTANT DOWNLOAD
Improving speed and agility, increasing operational efficiency and improving the customer experience – RPA promises it all. RPA is a market leading technology, but it is also just one technology amidst a wider automation landscape. Written for New Zealand enterprises, this e-book discusses how RPA performs relative to other technologies and where RPA is best positioned within an organisation for success.
Are you ready to automate your organisation?
How Does Enterprise Process Automation With RPA Drive Operational Performance?

Why Enterprise Automation?
New Zealand Based Development Teams
Highest Ranked Global Developer on Staff
Dedicated Automation Services
Proven NZ Delivery Experience
Trusted by Leading New Zealand Brands
Increase Speed & Agility
Improve Customer Satisfaction
Lift Staff Engagement
Increase Productivity
Decrease Operating Costs
Organisations Who benefit from enterprise process automation
Quanton's Enterprise Process Automation Service
Quanton's Enterprise Process Automation service helps large organisations to design, establish, grow and optimise automation as a strategic capability in their operations.
Quanton meet the outsourcing requirements of enterprise process automation or support organisations to develop internal capability, enabling a greater level of control, governance and security.
Consultancy
Automation Strategy
Solution Design
Development and Delivery
Training and Development
Support Services
Blue Prism is recognised globally as a leading Robotic Process Automation software, providing a secure, scalable and flexible automation solution with centralised management.