Automation Technology For New Zealand Businesses
Automate Your Business With Leading Global Automation Technology
Find out what automation technology can do for your organisation. New Zealand organisations who transform their operating models through automation can drive their competitive advantage, improving the customers experience, increasing speed and agility, improving customer satisfaction ,and driving operating peroformance.
Lift staff satisfaction and improve the customer experience
Drive operational performance
Increase speed and agility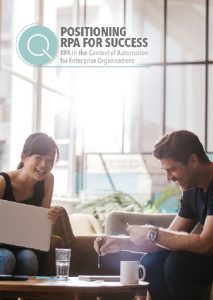 Automate Your Organisation
Keys to the Success of Automation
Types of Automation
Positioning Solutions in Org Structure
Potential Scope of Automation
Identifying the Right Automation Solution
FREE INSTANT DOWNLOAD
Instantly download a free guide to understand where the opportunities lie for automation in enterprise organisations, and how to position Robotic Process Automation for success. Written for New Zealand organisations with local use case and context.
Enterprise Automation Solutions
Enterprise grade automation solutions, specialising in administrative and back-end operational processings. Designed with large organisations in mind our technology solutions deliver enterprise grade security, centralised control and management, scalability and flexibility.  
Quanton can automate any process within applications and computer systems that use digital inputs
| | | | | |
| --- | --- | --- | --- | --- |
| Rule Based Processes | Processes with High Repretition | Transactional Processes | Processes with High Compliance Requirements | Processes with Fluctuating Demand |
How Do We Automate Enterprise Processes?
Quanton specialise in Robotic Process Automation (RPA). RPA is an approach to business process automation best suited to mundane, rule based and repetitive administrative and back-end operational processes.
Software robots are used to perform rule based business processes by mimicking the actions of humans to interact with systems and complete business tasks or actions.
Quanton's Automation Technolgy